SCT1251 series are replacement of Molex's 1.25mm PicoBlade system provides the same 1.0A of current as similar 2.00mm pitch systems, in a more compact design.
Specification
| | |
| --- | --- |
| Series | SCT1251 Series |
| Contact Pitch | 1.25mm |
| No.of Contacts | 2 to 16 positions |
| Current | 1A (AWG #28 to #32) |
| Compatible | Cross Molex 51021 Connector Series |
SCT1251 SERIES CONNECTORS
| Items | Part No. | Photo | Spec. |
| --- | --- | --- | --- |
| Male Housing | SCT1251MH-xxP | | Drawing |
| Female Housing | SCT1251FH-xxP | | Drawing |
| Male Terminal | SCT1251MT | | Drawing |
| Female Terminal | SCT1251FT | | Drawing |
| Vertical Header | SCT1251WV-xxP | | Drawing |
| Right-angle Header | SCT1251WR-xxP | | Drawing |
| SMD Vertical Socket | SCT1251WV-S-xxP | | Drawing |
| SMD Right-angle Socket | SCT1251WR-S-xxP | | Drawing |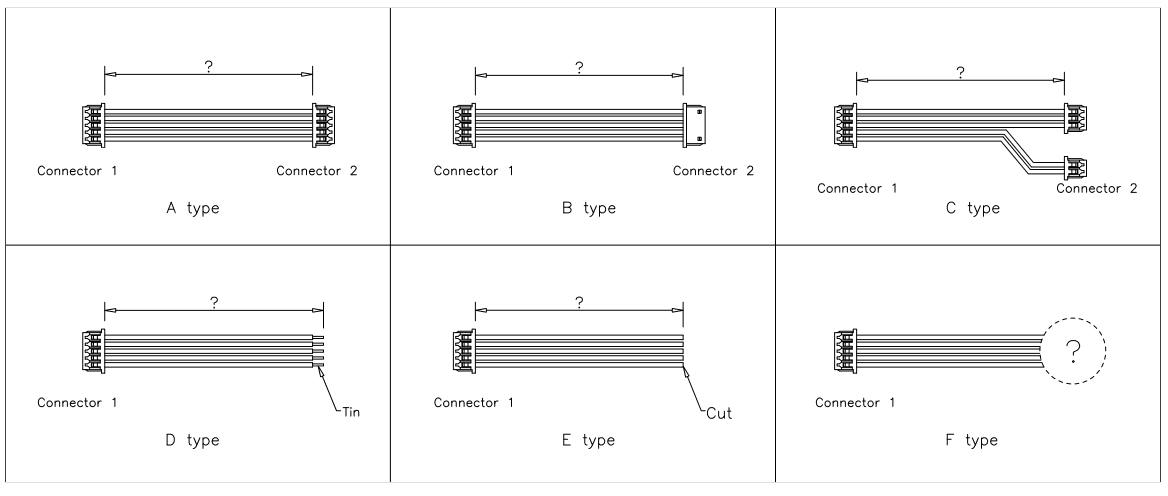 | | |
| --- | --- |
| Current Rating: | 1A |
| Voltage Rating: | 150V |
| Temperature Range: | -40°C~+85°C |
| Contact Resistance: | 20m Omega Max |
| Insulation Resistance: | 100M Omega Min |
| Withstanding Voltage: | 500V AC/minute |
Molex's 1.25mm PicoBlade System Connector
1.25mm PicoBlade System Connectors
One thing about 2.0 mm pitch connectors is that they are widely used in the industry and very commonly seen in consumer electronics especially in laptops and VGA card fans, giving a current rating of 1.0 amperes. However, the 2.0 mm pitch connector is not as compact as the 1.25 pitch connector which gives the same amount amperage and voltage. For space-saving requirements, the 1.25mm pitch connector is preferred, reducing about 45% PCB of space consumption compared with 2mm pitch connectors.
Enclosing the 2mm pitch connector is a crimp style lock designed by Scondar and a special configuration which prevents users from inverted insertion.
Like the 0.8mm and 1.0mm pitch connector, the 1.25mm pitch connector is also suitable for densely crowded electronic devices due to its small diameter wirings and lightweight design.
Delivers up to a current rating of 1.0 A per contact for American Wire Gage (AWG) #26, #27, #28, #29,#30, #31 and #32
Offers Design Flexibility in a Variety of Configurations
Scondar offers a variety of 1.25 Pitch connectors with different models and in various dimensions, with top or side entry configurations which might suit your specific needs.
Overmoulded Shell Feature Designed for High Density, High Speed Harness
As compared with the Molex 1.25mm PanelMate, the 1.25mm PicoBlade is manufactured with higher infill housing suitable for high density and crowded applications, withstanding higher strain and mechanical stress.
Variation in Number of Circuits
In addition to the above flexibility in configurations of the 1.25mm pitch connector, Scondar also offers this connector with different number of circuits ranging from 2 to 17 which might suit your specific needs.
Durable Product Design
No alloy was used in fastening the wires to the board, but through the use a crimping method, which makes if more flexible and mechanically stronger. The crimps are well engineered to be air-tight, preventing oxygen and moisture from reaching the metals, causing corrosion. Thus, the connector can be easily removed from the head without holding the wires. Furthermore, it prevents the cables from being easily disconnected due to entangled routing, heavy loads or vibration
Robust Terminal
Reliable electrical connection, even under conditions of low current and low voltage, is guaranteed with its two point contact design.
Optimized Safety Feature for Electrical Shock Hazard
With its improved product enhancement, the connector has the capability of withstanding voltage of 500 V AC per minute, which means to say that the insulation is sufficient to protect the user from electrical shock, overheating and fire.
Material and Finish
The header contact is made up of copper alloy, tin plated over a phosphor bronze material.
The housing is made of Nylon66 UL94V-0 natural ivory. These housings are available with or without protrusions.
The wafer is made up of Nylon66/46 UL94V-0.
The solder tabs are made up of brass, copper undercoated or tin-plated. These two solder tabs assure that retention of header to PCB connection and act as a strain relief for the SMT solder tails minimizing the chance of solder joints breakage.
Temperature range, insulation and contact resistance
A special feature of the 1.25mm pitch connector is it can withstand lower temperature settings than the 0.8mm pitch connector and 1.0mm pitch connector which makes it more suitable for equipment that experience wide range of temperature difference.The temperature range for this connector is -40 degrees centigrade to +85 degrees centigrade.
This range is based on the rise of temperature with increasing current.
Insulation resistance and contact resistance are of 100 M Omega per minute minimum and 20M Omega maximum, respectively.
Applicable in Chassis Wiring and Power Transmission Wiring
The 1.25mm Pitch Connector can be used for AC and DC operations with a rated current of 1.0 amperes and 50 Volts. It is applicable in both chassis wiring and power transmission wiring with a maximum amperage of 1.0Amp and 0.36 Amp, respectively.
Super fine wires are usable
The connector can be used with the wires of AWG within the range of #26 to #32. This applies to wire diameters as small as 0.22mm to 0.4mm. Super fine wires such as these can help the routing job.
Shrouded Header
The pin header of the connector is wrapped with a thin plastic guide box around it good for preventing cable connection mishaps and it also provides good guidance for the mating connector.
Twin U-slot section
Twin U-slot section or twinaxial cable has a pair of insulated conductors where the conductors are run parallel with one another. This is commonly used in high speed balanced-mode multiplexed transmission in large computer systems, in which the signals are carried by both conductors in a U-shaped configuration. This ensures reliable connection and provides greater noise immunity.
Item Packaging
The housing and wafer package are available as 1000 Pcs per bag.
For terminal purpose the available package offers 15,000 pcs per bag.
For wire harness, you can ask for custom materials with 1000 Pcs/bag.
Fits Microelectronics Systems
1.25 mm pitch serves as the best choice for densely crowded electronics systems for its small, square-edged configuration, ruggedized and shock resistant feature.
Caters Power, Signal and Grounding Contact Needs
The 1.25 mm Pitch connector can either stand as power contacts, signal contacts or both as power and signal contacts or a signal and grounding contact. The wiring harness interconnects the PCB to various components that sends signals and power to other electronic devices.
Safe and Reliable
1.25mm pitch connectors ensures safety, system protection and performance with its bonded metallic conduits and multiple grounding points preventing fire hazards, component damage, overheating and possible electrocution.
The product does not contain restricted chemicals in concentrations not complying with ROHS standards. Thus, for its components, the products can be worked upon at high temperatures required by lead-free soldering.
Majority of Consumer Electronics
1.25 mm Pitch Connector finds its advantage in devices such as, Multi-function/printer office machines, gaming electronics, Imaging and digital cameras, security systems, VCRs, PDAs, computer, notebook, speaker, LED television.
Automotive Industry
Driving requires not only the physical coordination of your hands and thought, but also high-quality automotive parts which are fine-tuned and in good condition. The combination switch is one thing because it allows you to turn the headlights on and off, maneuver the headlight beam function and turn signal lights on.
Scondar offers 1.25mm pitch wire to board connector used in the combination switch and other automotive components such as the following:
-shifters
-steering
-instrument panels
Testing Equipment
Testing equipment are often used for quality control of products, experimentation and R&D.
Scondar provides 1.25mm pitch connectors for the following testing equipment:
-multimeters
-ohmmeter
-voltmeter
-laboratory testing equipment