For Board to board solution, we supply 0.5mm & 0.8mm pitch connectors, and Pin (Male) Header & Female Headers from 0.8mm to 5.08mm pitch such as stacking, mezzanine, coplanar.
We'd like to help you cross reference competitors products, to offer a reliable solution with competitive price to you.
Male Header (Image reference only)
Female Header (Image reference only)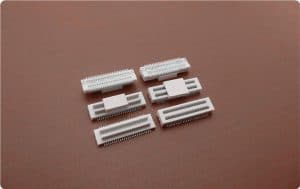 0.5mm Pitch Vertical Series
Orientation: 180 degree top entry
Pitch: 0.5mm
0.5mm Pitch Side-entry
Orientation: 90 degree side entry
Pitch: 0.5mm
0.8mm Pitch Vertical
Orientation: 180 degree top entry
Pitch: 0.8mm
0.8mm Pitch Side-entry
Orientation: 90 degree side entry
Pitch: 0.8mm
High Quality, Cost-Saving Board to Board Connectors
Scondar's Collection of Electronic Board-to-Board Connectors Fit for Your Needs
A Home for Affordable, ODM/OEM Connectors Likened to Molex, JST, Hirose, Jae, Amp and Dupont
As a one stop shop for electronic board-to-board connectors with over 160 standard parts, Scondar has all that you will ever need at very low affordable connector prices. Whether it's a JST, Molex, Hirose, JAE, Amp or Dupont board-to-board connectors you're looking for, we can provide!
Scondar's Board-to-board Connectors for connecting PCB's
Board-to-board connectors are designed specifically to provide signal connections between two printed circuit boards (PCB).
Economical Board-to-board connector types for severe electronic connection purposes
Scondar has a wide variety of board to board interconnections manufactured to withstand severe conditions and applications. The contacts are engineered in a way that it can be mounted on a single footprint which allows flexibility when there is a change in circuit design and configuration.
A Variety of Pitches, Pin Length and Insulator Heights to Choose From
Different pitch sizes can be be chosen from 0.5 mm to 2.54 mm pitch, with male and female headers to pick from. There are also a variety of pin lengths and insulator heights to choose from. Features such as shrouding, polarisation, keyed or elevated headers and sockets are also present in the board-to-board connectors.
Mounting Board to Board Connectors on a PCB
Board-to-board connectors can be either surface mount (SMT) or through-hole mount (TH). Scondar designed the connector pegs or posts in such a way that misalignment between two connecting boards can be prevented and assist the user in connecting.
Benefits:
Pre-Plated phosphor bronze contact material
Provides excellent spring performance with high fatigue and corrosion resistance.
Terminal Protection Assurance (TPA) Technology
Utilizing Terminal Protection Assurance(TPA) Technology, Scondar manufactures board-to-board connectors with enhancements in its connector housing and contact design to help prevent connection failure.
Didn't Find The Right Products ? Ask For Help!