Wiring harness also called cable assemblies. SCONDAR as an over 12 years experience factory in China, with rich experience in helping our clients make the right wire harness from ideas to volume production.
We have connector & wiring harness assemblies factory, so we can control the quality easier than others. After long years development, we have strictly Supplier management system. Care was taken from the raw material, we will make sure each process is under our quality control systems.
Being service of many clients from all over the world help us keeping improve our standard to meet different requirement. 
Components for Assemblies
Scondar manufacturing reliable Wire to Board (WTB) connectors & cable assemblies with pitch sizes from 0.8mm to 6.2mm pitch or even bigger.
Scondar can help you come through from ideas to products with our rich experience on OEM ODM connectors. Most of WTB connectors we listed below were replace of brand connectors like Molex, Jst, Hirose, Jae, AMP, Dupont and more.
And we can also offer ORIGINAL connectors according to your request when you need cable assemblies.
Scondar is connectors manufacturer too, and we have many reliable partners offers different range of connectors, we can assemble any connector or plug to wires, cables.
RF Coax
IDC
Power
Modular
FFC
Automotive
Data
Any custom connector
……
Examples of Wire Harness Assemblies
Wire Harness Assembly China's Leading Supplier & Manufacturer
CHAPTER 1. What is a Wire Harness Assembly
All You Need to Know About Wire Harness Assembly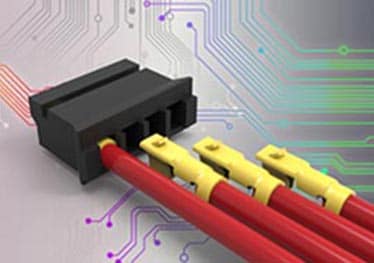 Wire harness is also known as cable harness. We say that veins is to human as wires is to electrical systems such as in power generation, signal transmissions and distribution systems. Wire harness is an assembly of wires that transmit electrical signals, in which the wires are clipped or bundled together with ties, laces, tape or a conduit strung together.
The reliance of electricity on wires and cables as a form of transport is very critical. Achieving a reliant and effective transport of electricity from one point to another (eg. power generation to consumer) in a cost-effective, sustainable, easy and space-saving manner using safe, compliant raw materials is an objective that Scondar has accomplished by their expertise in research and development of electronic wires, connectors and cable assemblies.
We can see wire harness anywhere; such as in automotive systems, on motorbikes, home appliances. They are present whenever we need electrical cabling and wire harnessing and that is where Scondar provides your specific wire-to-board, board-to-board and board-in connectors with specialized and safe harness to suit your need.
CHAPTER 2. Purpose of Wire Harnessing
Why Wire Harness in the First Place?
Wire harnessing is done to protect wires from shocks, short circuit, vibration and abrasion.
Chapter 2.1 SECURE WIRES FROM ABRASION AND MOISTURE
A Proven, Durable Wire Harness Insulation Solution
Scondar's wire harness solutions for the harmful effects abrasion and moisture is through its engineered insulation coating that has an outstanding performance even in heavy-duty applications. An insulation is a non-conductor material that offers high electrical resistance suitable for components, terminals and wires.
Insulation can be in the form of plastic, fluoropolymers or rubber. Wiring insulation prevents the insulated current from coming into contact with other conductors, preserving it from environmental threats and resisting electrical leakage.
Chapter 2.2 MINIMIZE VIBRATIONS
Service vibrations during the operation of the device are expected, and there is no better way of securing these wires from the effects of vibration than binding them with suitable material.
Chapter 2.3 PREVENTION OF SHORT-CIRCUITS
Prevention of short-circuiting is also known to be a fringe benefit of wire harnessing since there is a small chance of vulnerability of short-circuiting when wires are bundled. It also promotes less man-hour for wire installations. The chances of sparking and resulting fires is greatly reduced as the wires are bound by fire-retarding sleeves.
CHAPTER 3. Wire Harness Termination
Chapter 3.1 Wire Harness Insulation-Displacement Contact (IDC) Termination
Insulation displacement cable is an electrical connector designed to be connected to the conductor of an insulated cable by a connection process that forces a selectively sharpened blade or blades through the insulation, eliminating the need to slice the conductors of insulation before connecting.
IDC mount connectors are normally female and have an option for strain relief, which offers protection to the terminated contacts. The number of contacts in a connector can be between 4 to 100 depending on the pitch and style required.
Chapter 3.2 Wire Harness Pre-Crimped Termination Leads
Crimping is a type of solderless electrical connection. High pressure is required to break through oxides and achieve metal-to-metal contact, involving plastic deformation of the terminal. A well-designed and well-engineered crimp is designed to be gas-tight, preventing oxygen and moisture from reaching the metals and causing corrosion. Because the soldering process is eliminated, no alloy is used making the joint mechanically stronger.
Chapter 3.3 IDC Assemblies and Pre-Crimped Leads
Scondar manufactures IDC assemblies and pre-crimped leads reduce time and tooling expenses for design, pre-production, and production requirements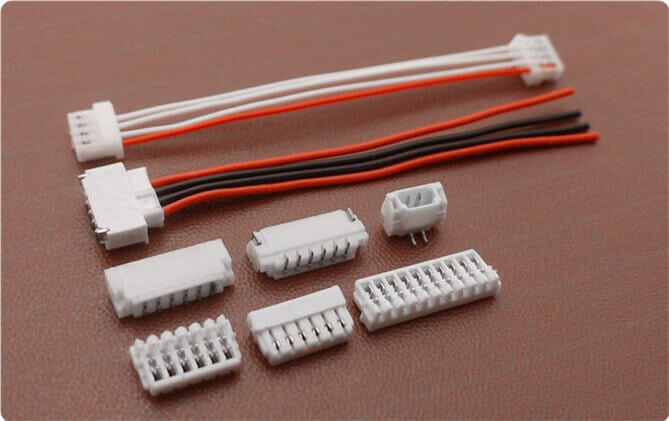 Scondar's facility is a fully functional wire harness assembly operation incorporating the latest technology and some exclusive equipment designs for cable assemblies utilizing connectors manufactured that can stand as a replacement for branded connectors such as JST, Molex, Hirose, Dupont, AMP, Yeonho and many more.
Chapter 3.4 Termination Connector Ends

CHAPTER 4. Benefits of Wire Harnessing
Chapter 4.1 Space Optimization
When wires are bundled, there is much space that is optimized, which in turn saves the time for both the installer and your own from having to install each individual wire.
Chapter 4.2 Security and Safety
The wires are protected by a fire-retardant sleeve that prevents electric fire outbreaks.
The harness is well-insulated ensuring that the wires will not flex reducing the chances of abrasions and short circuiting.
Chapter 4.3 Easy and Simple Installation of Wiring
Wire harnesses eliminate the need to connect individual wires to their respective systems. Many application systems have existing cable assemblies. Hence, the newly installed wire harness simply needs to be linked with the existing one. Thus, no time is wasted in the wire installation process.
Chapter 4.4 Prevents Wire Derangement
As the wires are bundled, the assembly reduces chances of wire cluttering. Also, the harness requires less space in terms of installation.
CHAPTER 5. How Wire Harness is Manufactured in Scondar Facility
Wire harnessing is mainly manufactured by hand instead of using automated tools because of the many processes involved.
Chapter 5.1 Wire Harness Assembly Process and Fabrication
The following points showcase the basic requirements and steps to build a wire harness. A walk-through in the Scondar wire harness assembly line (watch https://www.youtube.com/watch?v=0HrpdHvXfyA for a short, full video tour and sneak-peek in Scondar's facility) would tell that the wire harnesses are assembled in a uniform, standardized manner, where each worker is assigned with one specific task to complete the complicated and elusive process in wire harness assembly.
5.1.1 Step One: Planning and Drawing an Electrical Wiring Diagram
Electrical Engineers usually create the wiring diagram of the wire harness through a Computer Aided Design (CAD) software. The wiring diagram is a pictorial representation of an electrical circuit which contains a schematic and a harness.
The schematic will show the parts, locations and how they are connected while the harness diagram shows a large picture of how the wires and connectors are put together. The harness diagram will help you create an exact plan of how all the wires and connectors will be put together.
Caption: An Example of a Wiring Diagram showing a Wiring Harness
The wiring diagram also shows allowable wire and cable types and sizes with accordance to operating current and voltage capability. Restrictions such as environmental conditions (ambient temperature range, moisture levels, and exposure to sunlight and chemicals) are also found on the electrical wiring diagram.
5.1.2 Toolbox Preparation
At this stage, all necessary tools are collected to make the wire harness such as the following
Wires
Zip ties
Heat gun
Terminals
Connectors
Multimeter
Wire cutter
Crimping plier
Heat shrink tubing
Wire stripper
Crimping machine
5.1.3 Wire Stripping
A wire stripping tool is used cut or strip a small part of the insulation from one end of the wire and attached to the terminals, making sure that the length of the cut is according to the terminal size.
5.1.4 Cutting the Heat Shrink
Heat shrink tube is the shrinkable plastic tube that insulates the wire. At this stage, the heat shrink is cut off a bit longer than that of the stripped wire. The heat shrink is then inserted to an unstripped area of the wire.
Caption: A heat shrink machine is used to seal and protect splices providing mechanical protection
5.1.5 Attaching a Terminal
The terminal will then be crimped with the wires using a crimping machine.
5.1.6 Covering the Wire
Once the terminal is attached, a heat shrink is again used to close the tubing over the crimped wire edge and the seam of the terminal.
5.1.7 Shrinking the Tubing and Interlacing the Wires

Caption: A heat gun is used to heat shrink the tubing into appropriate size
In this step, a heat gun is used to heat shrink the tubing at an appropriate temperature to allow reduction of tube diameter up to its optimal size to protect the parts.
5.1.8 Attaching the Wire to a Male Housing
When attaching a wire into a male housing, pushed into the terminal inside it until a "clicks" in place. Once this is completed, the housing flap will be closed.
5.1.9 Connecting the Wire to the Female Housing and Attach the Connectors
The same procedure as above is performed in attaching the female housing. The wires are then tied into a bundle and thus concludes the procedure in wire harnessing.
Chapter 5.2 Wire Harness Testing Procedures
The testing procedures such as described below ensures that wires in a wire harness are fit for application use. to ensure their products are fit for application use. The tests need to be performed in reference with IPC or WHMA guidelines, summarizing the standards on assembly and production of electronic equipment and assemblies.
5.2.1 Electrical Testing
The entire wire harness assembly is assessed for opens and incorrect wiring.
5.2.2 Visual Testing
As the name implies, the cables and wires are visually inspected for any defects and deformations. Sockets, markings, connectors and finishes are checked in this test and the dimensions are also inspected to ensure that the wires and cables pass the specifications.
5.2.3 Environmental Testing
In a virtual environment, these wires and cable harness are further tested to see if they are capable in withstanding harsh environmental elements such as vibration, extreme cold and heat and other factors such as the following:
Thermal shocks
High humidity levels
Salt sprays for corrosion
5.2.4 Mechanical Testing
This stage of testing focuses on the connectors, and the overall durability of the product. The connectors are subjected to disconnection and connection to determine how much force is required to connect or disconnect the assembly. Product durability is tested by subjecting it to a set number of flexing cycles. This helps the tester determine the approximate service life of the assembly.
It is important to come up with a testing plan, which comprises the necessary tests to ensure the performance of the product. Thorough cable assembly testing will ensure that cable will perform as required in extreme environments, and have a long service life.
CHAPTER 6. Quality Control and Quality Standards
Subtitle. We are proud to provide high-quality products and solutions to our customers
The starting point for compliance at Scondar is our strict compliance with manufacturing standards, enveloped with our excellent employee and customer governance maintaining the highest standards of ethical and legal conduct.
In this regard, our products are all qualified in the following standards such as in ISO 9001, ROHS, OSHAS, IAF, and UL certified. With dedicated service and innovative products, we ensure complete customer satisfaction.
Chapter 6.1 ISO 9001:2015
ISO 9001:2015 is the leading management standard for companies that trade on a business-to-business basis.
As ISO 9001:2015 certified, Scondar's quality management principles are upheld with a strong customer focus, motivation and implication of top management in the process approach and
continual improvement.ISO 9001:2015 helps ensure that customers get consistent, good quality products and services, which in turn brings many business benefits.
There are seven quality management principles covered in this standard. These are:
QMP 1 – Customer focus
QMP 2 – Leadership
QMP 3 – Engagement of people
QMP 4 – Process approach
QMP 5 – Improvement
QMP 6 – Evidence-based decision making
QMP 7 – Relationship management
Chapter 6.2 Restriction of Hazardous Substances (ROHS) Compliance Accreditation
A wire or cable product labeled RoHS compliant follows the guidelines listed by the European Union under the Restriction of Hazardous Substances Directive (RoHS). This ensures that Scondar wire harness and connectors does not contain hazardous chemicals and elements such as lead, cadmium, mercury, hexacalent chromium, polybrominated biphenysis or polybrominated diphenyl ethers.
Chapter 6.3 China National Accreditation Service for Conformity Assessment
This certification is a third party attestation that indicates reliable technical competence of a facility.
Chapter 6.4 SGS Accredited
SGS is the world's leading inspection, verification, testing and certification company that is known for recognizing companies with high quality manufacturing and integrity in leadership.
With Scondar's SGS accreditation, we are confident to attest that:
Our traded goods are delivered in justly with true quantity at superb quality, meeting all regulatory requirements across different regions and markets
Our staff are all knowledgeable and experienced in electronic cabling, wire harnessing and producing high quality connectors, with safety features and reliable performance.
We have a demonstrated organized and advanced processes, systems and services which are compliant with both national or international standards and regulations.
Chapter 7. Low to High Volume Wire Harness Assembly Projects
Scondar has the ability to produce custom wire harnesses from either a single conductor jumper up through multi-conductor with wire bundling. With the addition of heat shrink tubing and twisting options, we can customize wire harness assembly designs to any unique design. Along with many possible lengths and gauges, we also offer multiple termination options.
Chapter 8. Scondar can help you achieve your quality goals
By aligning our business processes with requirements set out in the following standards we are able to assure customers of our ability to deliver unrivalled levels of service and product quality.
Our quality system covers all activities that impact the service we offer to our customers and is fully embedded into our overall business management systems. It ensures that we uphold the following principles:
We communicate with, and listen to, our customers.
Being proactive in anticipating customers' needs and expectations.
We safeguard our customers and ourselves by maintaining statutory and regulatory compliance.
We provide marketing, technical and support information that is readily accessible and easy to understand.
We continually strive to improve our operating processes, products and services for the benefit of our customers.
Chapter 9. Frequently Asked Questions (FAQs) about Wire Assemblies
How many Wires does an assembly have? How do you decide on the specific specifications to put?
The number of wires may vary depending on your need. We will guide you on how to choose the proper connector to use for each application, the number of wires and other technical details through our field of engineers and experts.
In general, a simple system may require a wire or cable assembly with five to seven wires. Larger assemblies may consist of more wires. The cables are selected based on the kind of data that they will be transmitting. The length, insulation material, wire size, and power capacity, are all decided based on the application.
What is the General Lead Time for Cable Assembly Delivery?
The delivery depends on of factors, including material availability, production requirements, and inspection time. We can typically deliver your products within two to four weeks.
Generally 5 -7 days for standard products not over 10,000 quantities.
7 – 14 days for big amount and customs product. Let us know if it is urgent.
Do you provide samples ? is it free or extra ?
Free samples are always available for testing or quality evaluation purpose.
What is your Terms of payment ?
Payment terms are flexible. T/T, Paypal, L/C, D/A, D/P, Western Union, MoneyGram payments etc.
What kind of Testing Procedures are Performed for Standard and Custom Assemblies?
Testing is performed during and after the manufacturing process. As the wire assemblies are being produced, the products and components are continually checked for aspects such as weld peel, overmolding, pull and wire retention forces.
Other testing procedures performed during and post manufacturing include:
Leak testing
Hi-pot testing
Impact testing
Connector separation force testing
Mate and unmate cycle testing
What types of Wire Assembly Designs are Generally Offered by Scondar?
Wire assembly designs may come off in different styles as the ones listed below. Our products are usually a replacement for branded connectors such as AMP, Hirose, Molex, JST and Yeonho in which the designs are similarly made.
Point-to-point Assemblies: This consists of terminal strips, which are used to create interconnections between two individual points.
Multi-Termination Type Assemblies: These are made up of multiple fiber cables that are pre-terminated. This means that connectors are added to each fiber cable before the assembly is created.
Ribbon Assemblies: Ribbon assemblies are insulated wires that are connected side-by-side forming a flat ribbon. Ribbon assemblies can be subcategorized into high-speed, shielded and jacketed non-PVC, split or multi-branch cable assemblies.
Radiation Tolerant Designs: These cable assemblies are designed to maintain their performance in applications with high amounts of radiation. Generally, radiation tolerant assemblies have a tolerance range from 5 to 200 Mrad.
Crush Resistant Designs: These assemblies can withstand immense amounts of pressure. You can find assemblies with the ability to withstand over 250 lbs. per inch.
These are some of the basic questions that first time customers need to know when procuring cable assemblies. Ensure that you have every query answered before you order a product. Clear knowledge of the products, its features and benefits, can help you make a wise decision.