FFC/FPC Connector, Through-Hole, Vertical, ZIF Receptacle
Specification
| | |
| --- | --- |
| Series | 1.25mm A Type Series |
| Contact Pitch | 1.25mm |
| No.of Contacts | 04 to 35 positions |
| Height | 4.10mm |
| Package | Reel,Tube |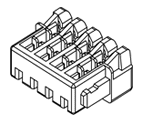 HOUSING
SMD Socket Vertical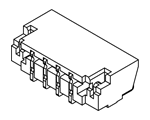 SMD Socket Right-angle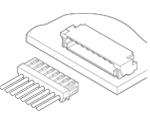 Cable Assemblies
SCT0800 SERIES CONNECTORS
| | | | |
| --- | --- | --- | --- |
| Male Housing | SCT5083MH-04CBK134 | | Drawing |
| Male Housing | SCT5083MH-03P | | Drawing |
| Female Housing | SCT5083FH-04P | | Drawing |
| Female Housing | SCT5083FH-03P | | Drawing |
| Female Housing | SCT5083FH-02P | | Drawing |
| IDC Housing | SCT5083HI-04P | | Drawing |
| Terminal | SCT5083MTBS134 | | Drawing |
| Terminal | SCT5083FTBS134 | | Drawing |
| Vertical Header | SCT5083WV-04C0WT103 | | Drawing |
| Vertical Header | SCT5083WVA-04C0WT103 | | Drawing |
| Right-angle Header | SCT5083WRAF-04C0WT103 | | Drawing |
| | |
| --- | --- |
| Voltage Rating: | 200V AC/DC |
| Current Rating: | 0.5A AC/DC |
| Withstand voltage: | 500V AC/minute |
| Contact resistance: | 30mΩ MAX |
| Insulation resistance: | 500MΩ MIN |
| Working temperature: | -25℃~+85℃ |
| Applicable FPC/FFC: | 1.25mm |
| MATERIAL |   |
| Housing: | LCP UL94-V0 |
| Contact: | Phosphor bronze Tin-plated |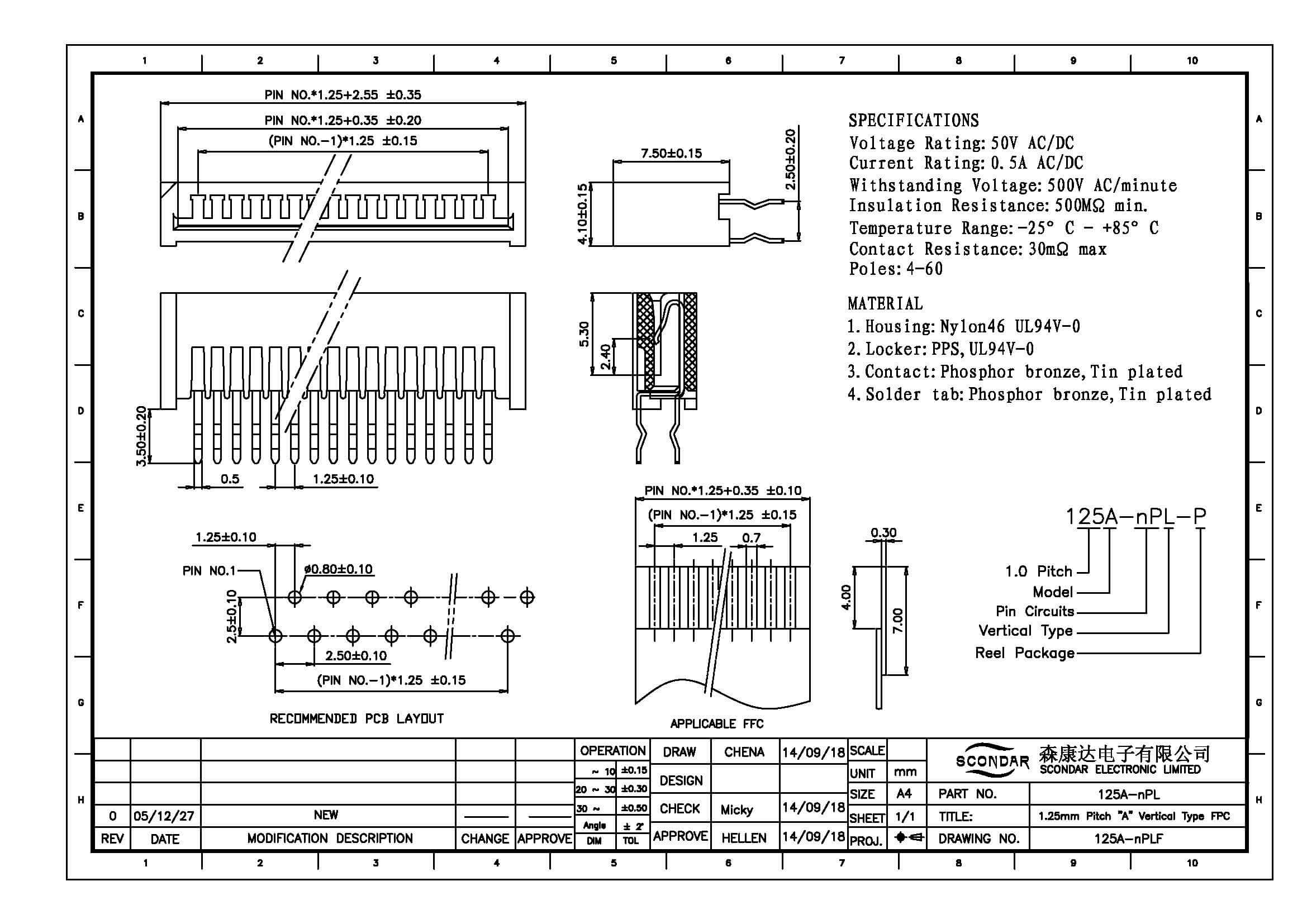 | Scondar P/N | JST P/N |   |
| --- | --- | --- |
| SCT0800HI-02BWT501 | 02SUR-32S | 02SUR-36L |
| SCT0800HI-03BWT501 | 03SUR-32S | 03SUR-36L |
| SCT0800HI-04BWT501 | 04SUR-32S | 04SUR-36L |
| SCT0800HI-05BWT501 | 05SUR-32S | 05SUR-36L |
| SCT0800HI-06BWT501 | 06SUR-32S | 06SUR-36L |
| SCT0800HI-07BWT501 | 07SUR-32S | 07SUR-36L |
| SCT0800HI-08BWT501 | 08SUR-32S | 08SUR-36L |
| SCT0800HI-09BWT501 | 09SUR-32S | 09SUR-36L |
| SCT0800HI-10BWT501 | 10SUR-32S | 10SUR-36L |
| SCT0800HI-11BWT501 | 11SUR-32S | 11SUR-36L |
| SCT0800HI-12BWT501 | 12SUR-32S | 12SUR-36L |
| SCT0800HI-13BWT501 | 13SUR-32S | 13SUR-36L |
| SCT0800HI-14BWT501 | 14SUR-32S | 14SUR-36L |
| SCT0800HI-15BWT501 | 15SUR-32S | 15SUR-36L |
| SCT0800HI-16BWT501 | 16SUR-32S | 16SUR-36L |
| SCT0800HI-17BWT501 | 17SUR-32S | 17SUR-36L |
| SCT0800HI-18BWT501 | 18SUR-32S | 18SUR-36L |
| SCT0800HI-19BWT501 | 19SUR-32S | 19SUR-36L |
| SCT0800HI-20BWT501 | 20SUR-32S | 20SUR-36L |
| SCT0800HI-21BWT501 | 21SUR-32S | 21SUR-36L |
| SCT0800HI-22BWT501 | 22SUR-32S | 22SUR-36L |
| Scondar P/N | JST P/N |
| --- | --- |
| SCT0800WVS-02F1xx501 | BM02B-SURS-TF |
| SCT0800WVS-03F1xx501 | BM03B-SURS-TF |
| SCT0800WVS-04F1xx501 | BM04B-SURS-TF |
| SCT0800WVS-05F1xx501 | BM05B-SURS-TF |
| SCT0800WVS-06F1xx501 | BM06B-SURS-TF |
| SCT0800WVS-07F1xx501 | BM07B-SURS-TF |
| SCT0800WVS-08F1xx501 | BM08B-SURS-TF |
| SCT0800WVS-09F1xx501 | BM09B-SURS-TF |
| SCT0800WVS-10F1xx501 | BM10B-SURS-TF |
| SCT0800WVS-11F1xx501 | BM11B-SURS-TF |
| SCT0800WVS-12F1xx501 | BM12B-SURS-TF |
| SCT0800WVS-13F1xx501 | BM13B-SURS-TF |
| SCT0800WVS-14F1xx501 | BM14B-SURS-TF |
| SCT0800WVS-15F1xx501 | BM15B-SURS-TF |
| SCT0800WVS-16F1xx501 | BM16B-SURS-TF |
| SCT0800WVS-17F1xx501 | BM17B-SURS-TF |
| SCT0800WVS-18F1xx501 | BM18B-SURS-TF |
| SCT0800WVS-19F1xx501 | BM19B-SURS-TF |
| SCT0800WVS-20F1xx501 | BM20B-SURS-TF |
| SCT0800WV-S-21F1xx501 | BM21B-SURS-TF |
| SCT0800WV-S-22F1xx501 | BM22B-SURS-TF |
| Scondar P/N | JST P/N |
| --- | --- |
| SCT0800WRS-02F1xx501 | BM02B-SURS-TF |
| SCT0800WRS-03F1xx501 | BM03B-SURS-TF |
| SCT0800WRS-04F1xx501 | BM04B-SURS-TF |
| SCT0800WRS-05F1xx501 | BM05B-SURS-TF |
| SCT0800WRS-06F1xx501 | BM06B-SURS-TF |
| SCT0800WRS-07F1xx501 | BM07B-SURS-TF |
| SCT0800WRS-08F1xx501 | BM08B-SURS-TF |
| SCT0800WRS-09F1xx501 | BM09B-SURS-TF |
| SCT0800WRS-10F1xx501 | BM10B-SURS-TF |
| SCT0800WRS-11F1xx501 | BM11B-SURS-TF |
| SCT0800WRS-12F1xx501 | BM12B-SURS-TF |
| SCT0800WRS-13F1xx501 | BM13B-SURS-TF |
| SCT0800WRS-14F1xx501 | BM14B-SURS-TF |
| SCT0800WRS-15F1xx501 | BM15B-SURS-TF |
| SCT0800WRS-16F1xx501 | BM16B-SURS-TF |
| SCT0800WRS-17F1xx501 | BM17B-SURS-TF |
| SCT0800WRS-18F1xx501 | BM18B-SURS-TF |
| SCT0800WRS-19F1xx501 | BM19B-SURS-TF |
| SCT0800WRS-20F1xx501 | BM20B-SURS-TF |
| SCT0800WRS-21F1xx501 | BM21B-SURS-TF |
| SCT0800WRS-22F1xx501 | BM22B-SURS-TF |
SCT5083 Series is Scondar's Line of Reliable 5.08mm Pitch Wire-to-Wire Connectors Likened to the Molex Brand
Scondar offers SCT5083 Series, a replacement and cheaper alternative of the Molex 8981 (5.08mm pitch) wire-to-wire connector. Scondar SCT5083 comes in a complete package: The male housing, female/receptacle housing, female and male terminal, all manufactured with precision-fitting and durability ensuring accurate mating.
The Molex 8981 series is famed and often used for disk drive power applications such as hard disk, CD/DVD, Zip and other removable media drives. This connector is available in 2-4 positions, delivering 5.0A for AWG #16-24.
The components are designed to withstand high temperature of IR soldering process and vibrations with its housing made from high temperature material.
Features
Molded dimple for ease of mating and orientation identification
WIth a molded dimple, Scondar can offer reliable mating of connections. The dimple will serve as a visible mating guidance for its ease of assembly, and will prevent connection misorientation.
Spring-Type Mounting Ears
An optional snap-in mounting ears enables the connector to be configured to panel-mounted, feed-through types of connections.
Reliable Polarization Feature and Easy Harness Assembly
The 5.08mm pitch wire connector also offers harness design options for design flexibility according to your needs, and features Easy Harness Assembly to reduce time and cost during installation.
Color-coded housings and terminals
With options for color coding, you can easily identify and manage the connections when color matching of housing and wires are done. This can significantly help for easy installation and easy cable management.
Most HVAC applications typically utilize similarly-configured wire-to-wire connectors. With color coding, incorrect connector insertion and mismating can be prevented.
Rugged consumer and medical application
This can be used to applications subject to shock, vibration or rough handling that can dislodge terminals and cause signal interference.
Friction and positive-lock options
Built with friction and positive lock options, this connector provides high-retention force for a reliable connection in rugged environments.
Reliable TPA Feature
The variety of Terminal Position Assurance (TPA) types, not only facilitates correct mating, but also gives the insurance that terminals are fully locked in the correct position.
High Current Carrying Capabilities
The support for high voltage and current (300V/15A) features a more robust build than blanked terminals.
Accept both male and female terminals
The housing will accept both male and female terminals, and are polarized to eliminate and prevent mismating.
Facilitates heat dissipation and low engagement force
The different wire-to-wire connector types are equipped with RMF solutions for lower friction solution between the contacts, making insertion and removal of the device easier, while eliminating the need for complex mechanisms.
Applications
Automotive and Commercial Vehicle
Mechanical Chassis Optimization
Thermal Management
Thermal Simulation
Consumer
Air conditioner
Air purifier / dehumidifier
Copiers
Printers
Refrigerator
Washing Machine
Printed Electronics Design and Development
Printed Electronic Inks
Printed Electronic Substrates
Printed Electronics Manufacturing
Magnesium Thixomolding Capability
Appliances
Thermal Management
Thermal Simulation
RF Microwave Solutions
RF/Microwave Production Capabilities
Fitness Equipment
Microwave oven
Washing machine
Industrial
Copiers
Printers
Desktop computer and motherboard
Hard disk drive
Medical
Telecommunications
High-Speed Channel Design
Signal Integrity Analysis
Material and Packaging of Molex 5.08mm Pitch Wire-to-Wire Connector
Using a UV-Resistant Thermoplastic Material for Enhanced Connector Performance
The housing components are injection molded Nylon66,UL 94V-0. These are scientifically proven to resist UV-radiation than normal plastic, making sure the connectors are well-protected, reducing risk for early degradation and increased cycles/minute of the connector subjected to harsh environments.
Tape and Reel Packaging for SMT Components
Scondar uses a state-of-the-art tape and reel equipment to package a variety of components.
The tape and reel packaging strip has accurately sized cavities for the terminal height, width and depth, secured tightly, maintaining consistent position during transportation.
You can expect that your wire-to-wire connector package is undisturbed during the trip and has maintained its vitality even during your production stages, which is why a lot of our customers has raved about our product for both cheaply-priced and, at the same time, resembles the Molex 5.08mm pitch wire-to-wire product with an industry standard .093" pin and socket in performance and quality.
The complete package will include the following:
Female terminal: 10,000 pcs/reel, brass material and tin-plated finish
Male terminal: 10,000 pcs/reel, brass material and tin-plated finish
Female Housing (Nylon 66, UL94V-0 500): 1000pcs/bag
Male Housing (Nylon 66, UL94V-0 500): 1000pcs/bag